8 Best Swim Floaties for Kids 2022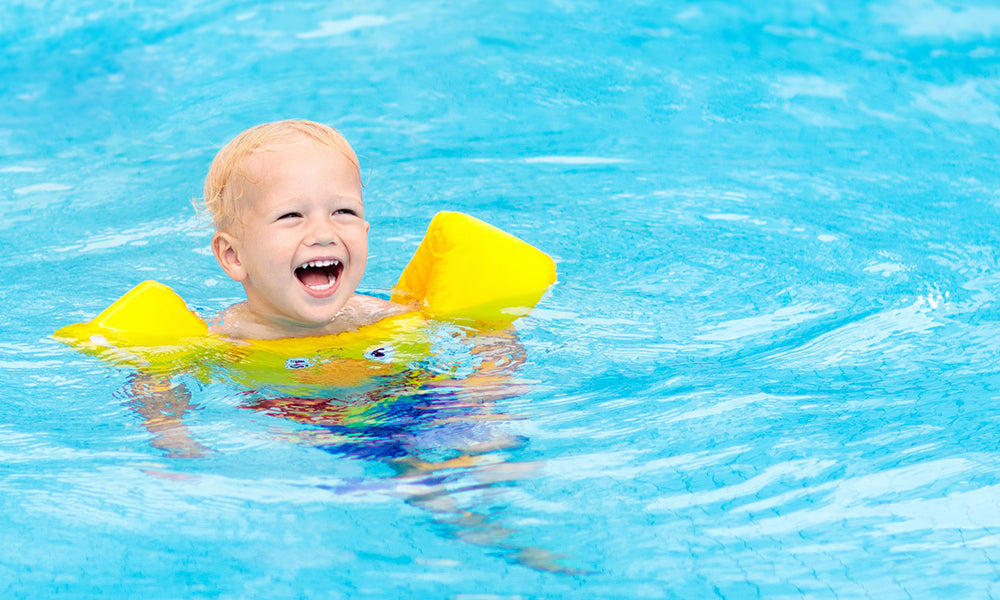 Whether you have an infant, toddler or a young swimmer, floaties for kids are a fun and a safe staple for any day in the water. Baby pool floats with canopies, armband floaties, life jackets, kickboards and more—young swimmers today have a variety of floaties to choose from, and many assist kids in learning how to swim.45

The best floaties for kids are the ones that make you and your child feel comfortable and safe in the water, so we've provided a variety of our favorite water floaties for kids. Check out our picks.

1. Body Glove Paddle Pals
Body Glove Paddle Pads
Considered one of the safest U.S. Coast Guard-approved swim life jackets, the Paddle Pals feature armbands attached to a body life vest. There is a safety harness that prevents the life vest from sliding off and helps kids learn to swim. The adjustable chest strap, quick-release safety buckle and durable material—which prevents chaffing—are also great features. The Body Glove Paddle Pal is ideal for children weighing between 30 and 50 pounds, and is approved for boating.


SHOP NOW


Related: The Essential Beach Packing List

2. Stearns Puddle Jumper Deluxe Life Jacket
Stearns Puddle Jumper Deluxe Life Jacket Giraffe
This kids floatie offers the best of both worlds for those who like the flexibility of water arm bands and the security of a life jacket. The Puddle Jumper features water arm bands attached at both arms to a type of chest belt that sits across the child's chest. It is U.S. Coast Guard-approved for boat passengers and perfect for kids who are learning to swim.


SHOP NOW

3. Kid Back Float Swim Aids
Kid Back Float Swim Aids
This backpack-like float assists kids with learning how to swim horizontally and practice swim strokes. Ideal for children weighing under 55 pounds, this toddler floatie features an adjustable strap. Additional layers can be added to the Kid Back Float Swim Aids or removed as your child learns to swim.


SHOP NOW


Related: 8 Essential Items to Pack in Your Beach Bag

4. Swim Training Kickboard
Swim Training Kickboard
If your child is ready for more of a handheld floatie, this Swim Training Kickboard is ideal for little swimmers. The ergonomic design (available in both adult and kid sizes) features rounded edges that are great for gripping and kicking.


SHOP NOW

5. Otter Wings Kids Floaties
Otter Wings Kids Floaties
Otter Wings are more than just swim floaties! This product keeps your kid safe in the water while also providing sun protection. The swim floaties attach directly with a secure buckle to the included Lycra swim shirt, which also offers UPF sun protection. The patented design can support children up to 66 pounds and gives them more confidence in the water since the buckle that attaches the floaties to the shirt prevents them from sliding off little arms.


SHOP NOW

6. Baby Pool Float with Canopy
Baby Pool Float with Canopy

This baby pool float is perfect for your youngest water lover. The baby floatie can hold up to 44 pounds and features a large canopy to keep the child safe from the sun. Little legs can kick about in the water through the float's legholes, and there's a steering wheel with a beeping horn for baby to captain the pool.


SHOP NOW

Related: The 7 Best Beach Tents for 2021

7. SwimSchool Grow-With-Me Floatie
SwimSchool Grow-with-me Floatie
This four-in-one floatie for kids is ideal for everyone from infants who want to splash to toddlers learning to swim. The first level of the baby floatie is recommended for children who are 10 months old and allows them to be introduced to the pool. The cruiser portion of the SwimSchool Grow-With-Me Floatie is for babies and then older kids who are looking to explore the pool more and may want to lay flat on the float rather than sit on it. Once you have a little swimmer who's ready to learn more, it converts into a kick float or kickboard. As your little swimmer grows, so too does this awesome floatie for kids.


SHOP NOW

Related: Best Beach Gear 2021: 9 Must-Haves for Families

8. Speedo Kids Begin to Swim Arm Bands
Speedo Kids Begin to Swim Arm Bands
These Speedo arm band floaties are great for older kids looking to master the skill of swimming. Best for ages 2 to 12 (weight not to exceed 110 pounds), these heavy-duty arm band floaties are inflatable, making them convenient to pack for a family vacation. The bands are specifically designed to fit smaller arms and help with mobility when learning to swim.